AS SEEN IN POND TRADE MAGAZINE 
Enthusiasm can "overflow" in the pond world as many contractors can attest to and this project was no different, as this Lancaster, PA homeowner supplied the koi pond concept in this edition of Contractor's Corner. With a pond concept developed, our client handed it over to us — C.E. Pontz Sons — and we refined the concept and created the design that was located in the backyard between a concrete patio and the corner of the home.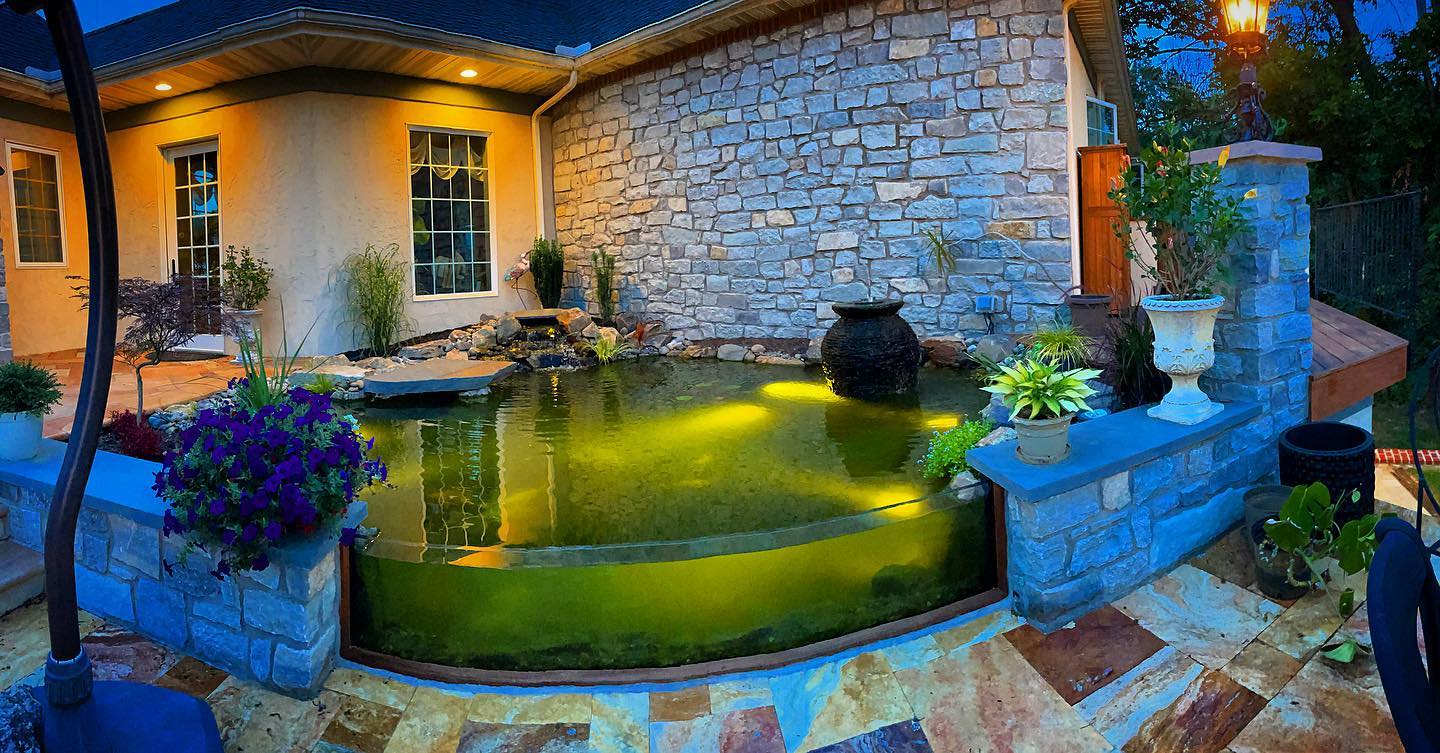 Our crew constructed a concrete masonry wall to give us our footprint that helped retain the soil needed to carve out the pond. There was little-to-no access for our equipment, so all rock and soil was wheeled back by hand; after many trips with wheelbarrows of soil, the area was filled. Then, all the soil was compacted and we began to dig it back out by hand.
Ugh.
After excavation and shaping the pond, we installed a protective underlayment followed by the fish safe liner. Then, the skimmer and biofalls were set and attached to the liner and all plumbing was installed; including the plumbing for the bubbling urn.
Now back to the wheelbarrows. Ugh, again. We began hauling rock/boulders and gravel by wheelbarrows back to the pond area. With most typical pond builds, this is all done with skid loaders and excavators, but due to the tight quarters, we used our backs instead.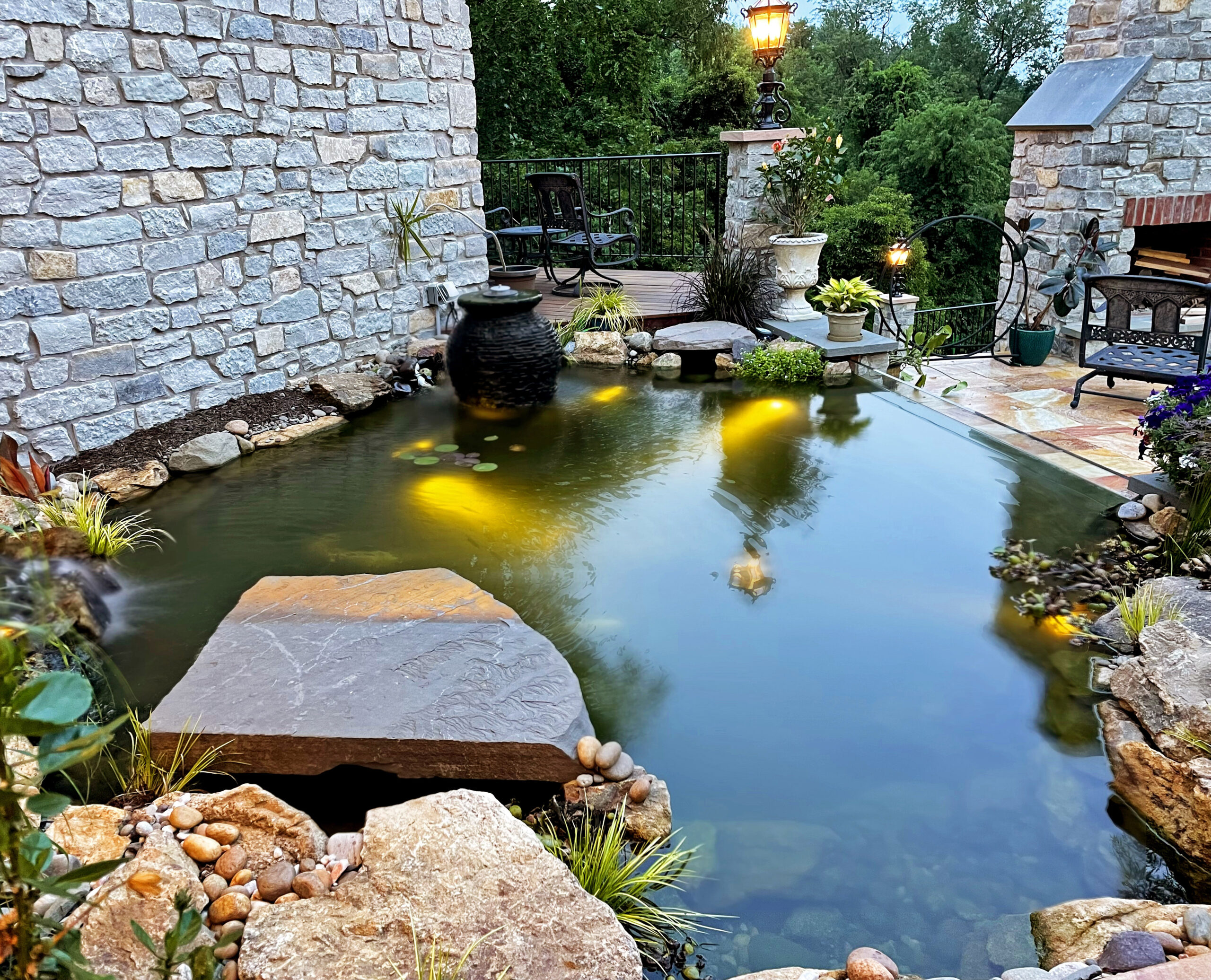 We constructed the pond in traditional fashion, with biofalls at one end and a skimmer at the other. Our normal ponds are installed at 24" in. depth. and, in this case, the homeowner was looking for more depth to house larger koi so we excavated to a 36" in. depth. This required, yes, more digging; including more hand work, more rocks, etc. The size varied with the boulders and gravel throughout the pond, but the boulders were smaller due to the lack of access for the excavator.
The crew outfitted the pond with low voltage lighting throughout and multiple fish caves to keep the koi safe from predators. We also installed a large steppingstone that extends out into the pond for close encounter feeding of the koi.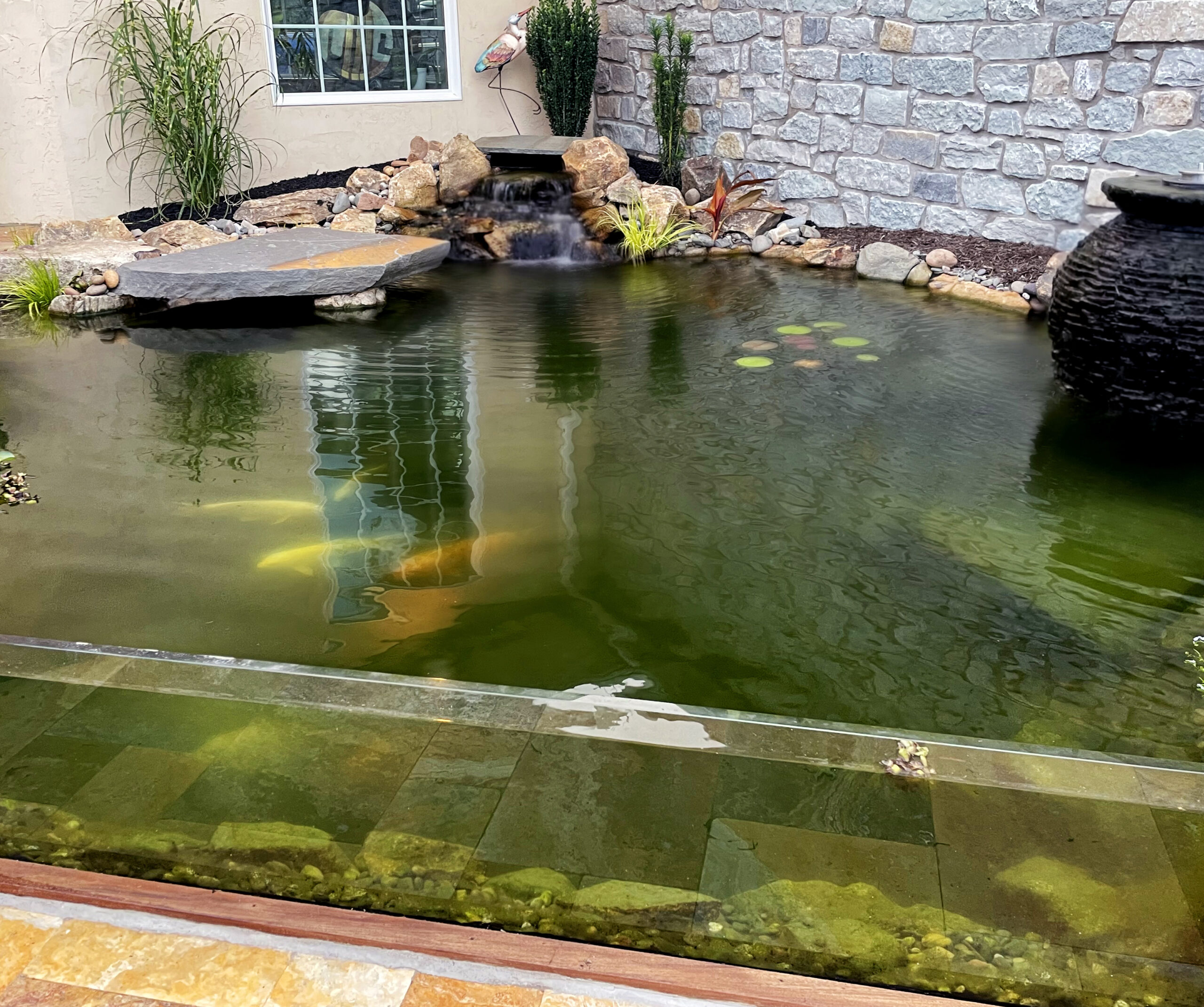 Once the rest of the pond was built, we then installed the piece-de-resistance: a large custom glass viewing window approximately 8 ft. x 18 in. high. The glass panel was special-ordered by the homeowner from a company in California, and we installed the glass on top of the liner with a waterproof sealant and then framed it around for a finished look.
While we are known for our natural creative look, going a bit more formal every once and awhile is always fun!
Learn more about our services and how we can help you bring your outdoor dream space to life!