This is the complete outdoor living package! Epic custom pavilion with a one of a kind outdoor fire place like you've never seen before! This back yard is SERIOUSLY EPIC!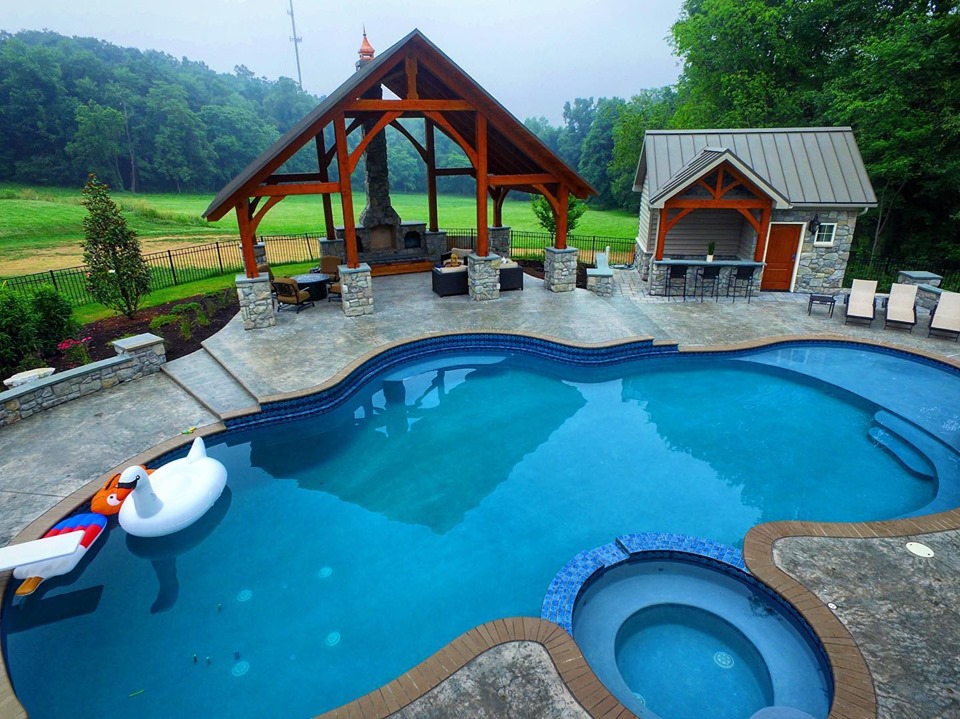 The project consists of just about everything one would want in their backyard. The large poolside outdoor living project has tons of different features throughout the property. The largest and most noticeable feature being the large timber frame pavilion. The pavilion sits above a massive wood burning fireplace. A large chimney and stone veneer accent this beautiful fire feature surrounded by a spacious outdoor living room. The fireplace hearth also includes wood storage sides.
To the right of the outdoor living room is a one of a kind pool house. The pool house is surrounded by a paver patio area that connects to the existing concrete. The pool house features a natural stone top bar area with stone veneer. inside is room for storage and changing and also includes a restroom.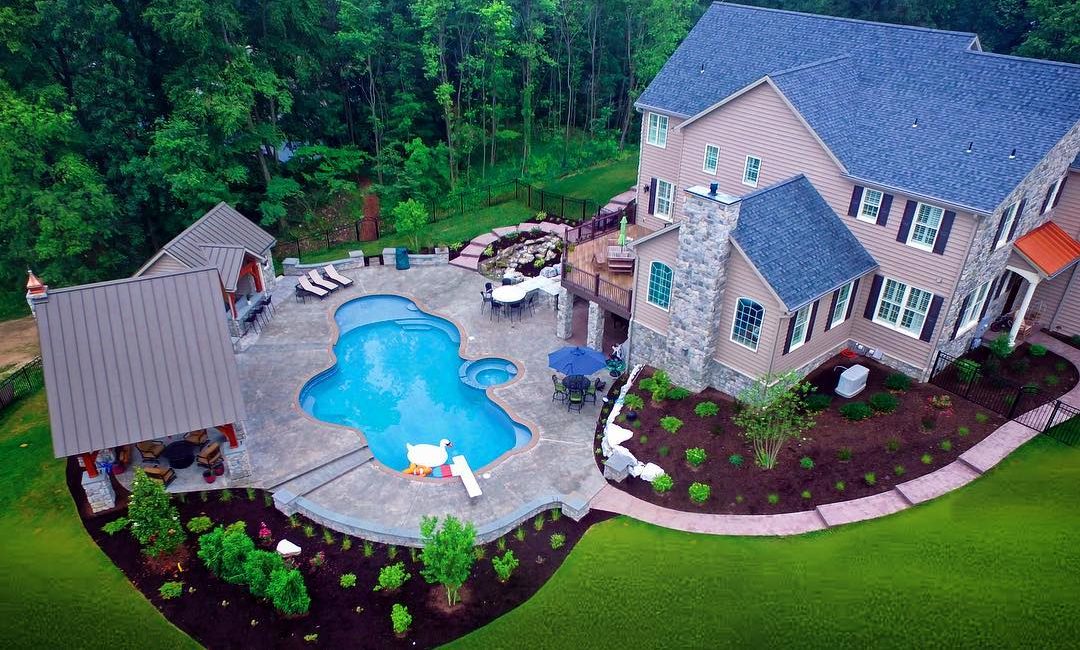 The pool area is surrounded by stone veneered sitting walls and pillars as well as matching pillars at the base of the pavilion. The seating walls and pillars finish of with thermal flagstone caps.
An outdoor kitchen and dining area was installed under the existing deck. The outdoor kitchen in complete with custom made granite counter top and dining table area. It includes a gas grill and double side burner, as well as a refrigerator and underneath storage areas and in complete with stone veneer.
Next to the outdoor kitchen are is a hillside pondless water feature. The limestone bolder waterfall stretches approximately 15 feet with multiple cascading waterfalls.
Landscape lighting was installed throughout the pool area as well as the surrounding landscape beds and walkway areas.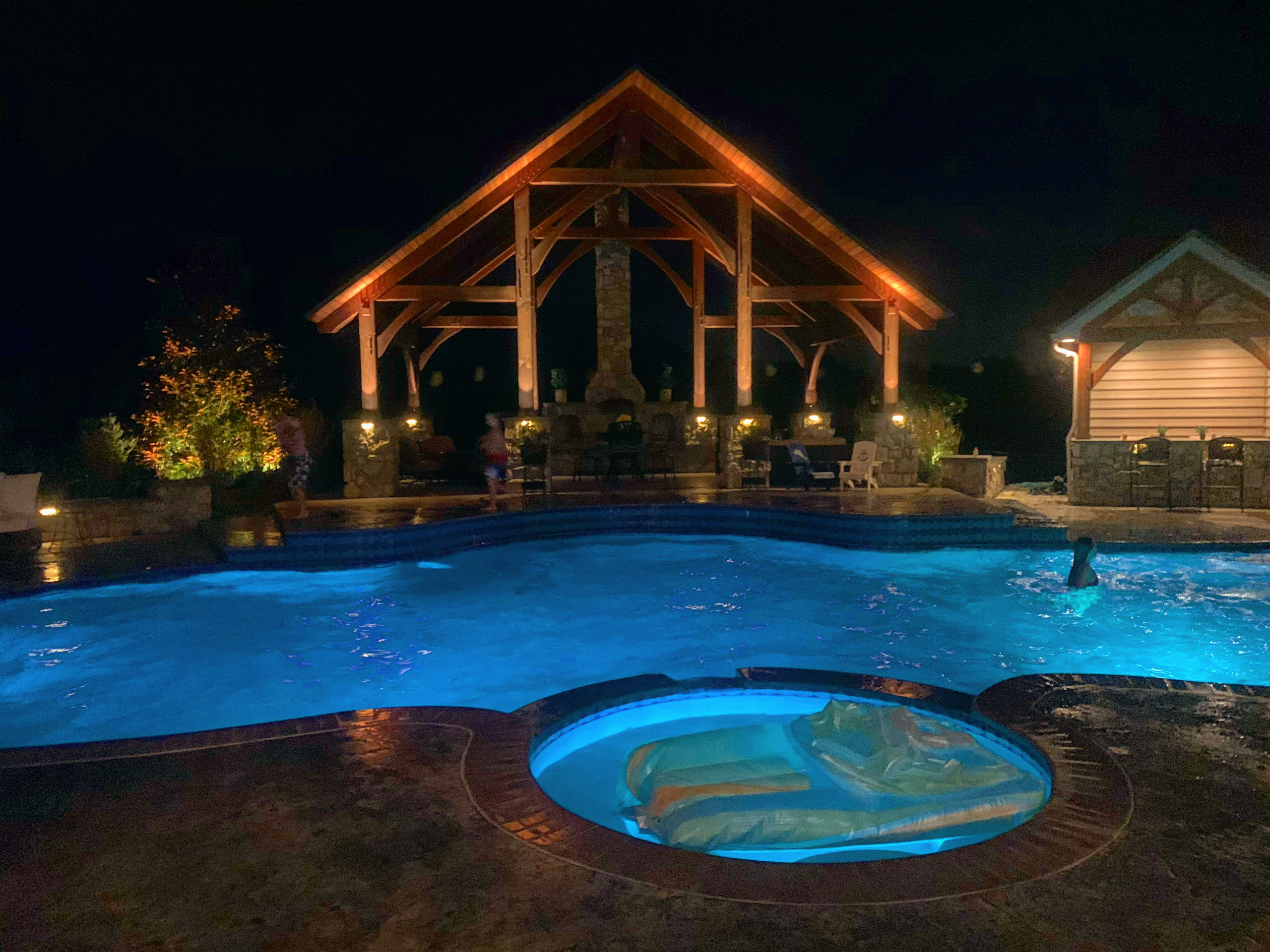 New landscape beds and plants were installed inside of pool fence as well as beds around front and side foundation of home. Sod was installed on disturbed areas inside of pool fence, and grading and seeding was done to areas outside of the fence. Plantings were also installed in existing beds on front slope and a new bed to left of the driveway entrance. All beds were finished off with a fresh coat of mulch.
This project is located in the beautiful hillside of Lancaster County, PA.
Learn more about our services and how we can help you bring your outdoor dream space to life!