Do You Have a Frozen pond?
Are you worried about a frozen pond? Is your pond frozen already? Worried about the survival of your fish? Well look no further! We have the solution to helping your pond survive old man winter. Check out the video below to learn more about the Aquascape pond heater.
Pond Heater
Keep your pond fish healthy during the winter months by keeping a hole in the ice for the exchange of gases. It is important to leave a small hole open at the surface of the pond allowing for necessary gas exchange. In extreme conditions or gardening zones above USDA zone 5 we recommend the deicer be used in conjunction with an Aquascape pond aerator. Learn about all the features and benefits of the Aquascape 300-Watt Pond De-Icer.
.

Can a pond run throughout the winter? Yes, although maintenance is usually the determining factor in whether or not a pond owner keeps their pump and waterfalls running in the winter. The primary maintenance responsibility at this time is to make sure there is enough water for the pump to operate properly.
read more on winter pond maintenance: http://cepontzsons.com/can-pond-run-throughout-winter/
Deck and Patio Design
This Project consisted of a deck and patio design and renovation. The deck portion of the project included: removal of existing decking, railing and skirting boards. We then installed Timbertech decking boards, Timbertech skirting boards, vinyl sleeves over the existing deck posts and installed Timbertech railing. The steps to accommodate the entrance into the hot tub were custom made. Timbertech was also used for decking to all stairs, risers and treads. Vinyl decorative lattice work was installed around the underside of the deck. This project also included excavation and installation of a stone pad for the hot tub pad. New landscape plantings were installed around the newly reconstructed deck.
Flagstone patio
As for the patio portion of the project. An existing paver patio was removed to start. Prep work was then done to the base to accommodate the new flagstone patio area. A new flagstone patio was laid with additional patio area to include access to the hot tub.
Landscape Lighting
Last but not least we installed some landscape lighting. The lighting included LED under cap lighting on the steps and landing areas for night time viewing and safety.
In the market for a Water Garden? Looking for water garden ideas? Look No further! I've compiled tons of water garden ideas sure to wet your appetite!

Water Garden Ideas
Here at Pontz we specialize in Ponds, Water Gardens, and Pond maintenance. Ponds, Water gardens, pondless waterfalls and fountains are just the tip of the ice berg. A water garden can transform an outdoor living space into a beautiful paradise where you can relax, unwind, and enjoy quality time with family and friends. Water features become the highlight of any garden or outdoor living space. Their melodious tunes and natural ability to attract a variety of birds and butterflies. Whether you tuck a decorative fountain near the entrance of your home or create a backyard habitat with an ecosystem pond and waterfall, you'll find each day enhanced when you waterscape your landscape. Whether you have an expansive lawn or a small balcony, you'll find a water feature to suit your lifestyle and budget!
Ecosystem Pond
Ecosystem ponds can be easy to understand if you have a good grasp of what components go into a basic, functioning ecosystem. An ecosystem pond works with Mother Nature to provide food, shelter, and safety to the wildlife around it. It also provides you with an all-natural, low-maintenance piece of paradise
Read More:http://cepontzsons.com/ecosystem-pond-2/
Pondless Waterfall
Pondless Waterfalls are simply a re-circulating waterfall and/or stream without the presence of a pond. You can enjoy the sight and sound of running water without the maintenance of a pond.
The waterfall is undoubtedly the most beautiful and favored feature in a water garden. If space is lacking in your yard or you have safety concerns with a pond, go Pondless! The name basically explains it all. It's a waterfall and stream, without the pond.
Read More:http://cepontzsons.com/pondless-waterfalls-2/
Fountains
Fountainscapes are affordable and designed to fit in any environment or space. They are a low-maintenance option water feature that brings the sights and sounds of water to your outdoor living space. Fountains are small decorative water features such as tabletop fountains, container water gardens, stand-alone fountains, bubbling urns, spitters, and fountains that incorporate an in-ground reservoir.
Read More about Fountains:
http://cepontzsons.com/create-a-paradise-fountainscapes/
Rainwater Harvesting
The Aquascape RainXchange™ Harvesting Systems are a revolutionary design that combines a recirculating decorative water feature with a sub-surface rainwater harvesting collection system.
Read More: http://cepontzsons.com/rainwater-harvest-systems/
Fire Fountains
Self-contained water and fire features have been gaining in popularity over the last few years. The Aquascape Fire Fountain adds the beauty and elegance of fire to
Read More:http://cepontzsons.com/custom-fire-fountains/
Spillway Bowls
The Aquascape Spillway Bowl creates a beautiful spilling water feature that can be added to any pond or pool creating an instant waterfall. Spillway Bowls can also easily be linked together creating a unique modern standalone water feature
Landscape Fountain at Forest Hill Inn
This project included a Landscape Fountain install at Forest Hill Inn. We installed 3 different size fountains atop the same basin. The fountain feature is made up of stacked slate bubbling urns. Two of the urns are equipped with fire fountain inserts. In addition to fire the fountains are also lit with low voltage landscape lighting. Making this awesome feature stand out day or night. Nestled in between the front entrance and the driveway, this feature can't be missed upon arrival. We incorporated some pretty sweet driftwood to help naturalize the feature in its wooded surroundings. What better way to greet your guest than with a beautiful fountain feature.
Ecosystem Pond
Check out this amazing disappearing waterfalls. This project included tons of amazing features throughout. The highlight is without a doubt the grand disappearing waterfalls. The waterfall is final stop on a journey through a backyard pond like you've never seen. As you can tell from the before picture we certainly had our work cut out for us. The water feature included a large ecosystem pond. A small wetland filter begins the journey into the large ecosystem pond. One of the ponds most noticeable features is the two bubbling urn fountains. Stepping-stones are set through the pond. The stepping-stones take you from the back patio through the pond. Natural stone steps then lead into the yard.A zero edge waterfall was installed at the ponds end leading to the stream. Drift wood was incorporated to soften and naturalize the pond. This is typical protocol during our pond construction.


Disappearing Waterfalls
The stream then flows underneath a large natural stone bridge. The bridge connects large steps leading to the patio area. on the other side of the bridge is a large natural stone stairway. After flowing underneath the bridge the water enters the grand falls. This large multiple tier disappearing waterfalls are quite breathtaking. This is just another example of what sets C.E. Pontz Sons apart from the competition. The final waterfalls then disappear into a pondless waterfall basin. The basin then recycles the water up through the wetland to further filter the pond water. Boulder retaining walls were also installed as well as landscaping lighting.


Boulder Retaining Walls
The first natural stone boulder retaining wall was build to bring up the grade. The grade adjustment allowed for a fairly level service to begin excavation for the pond. With the use of the wall and natural stone steps we were able to achieve desired elevations. A second boulder retaining wall was installed as well. This wall helped to retain soil and ease the steep grade which would eventually be sod.

This Disappearing Waterfalls project was installed in Lancaster, PA. Below is a drone video i shot and edited of the entire project. Enjoy!
Even though the weather is becoming cooler. There is no reason you can't enjoy your water feature. The fall is actually my favorite time to do so!

ENJOY YOUR WATER FEATURE DURING THE FALL SEASON
Colorful leaves still cling to November's trees, creating a vibrant backdrop for ponds and waterfalls. Although spring and summer are typically a pond owner's favorite seasons, fall is not to be out-done. Riotous color marches across landscapes leaving a streak of breathtaking views. Lucky is the person who enjoys a water feature framed with a lace of autumn colors.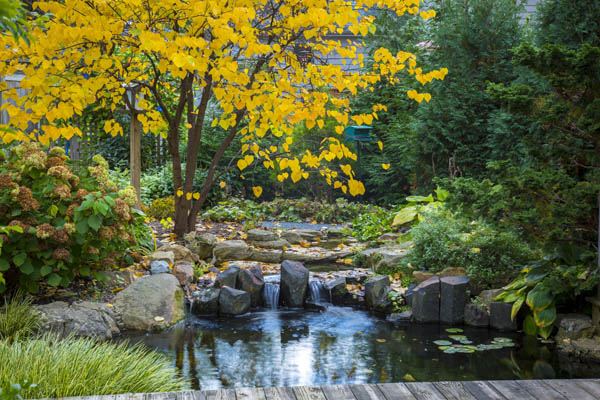 A beautiful burning bush (also known as Euonymus alatus) frames the top of a backyard waterfall. Even the fallen leaves look pretty cascading over the waterfall drops.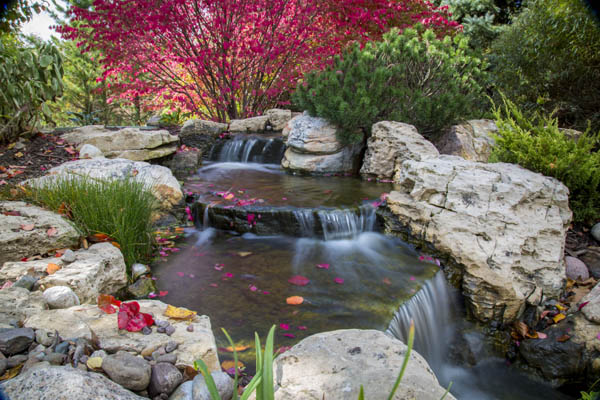 It's hard to say goodbye to summer when you have a pond or waterfall in your backyard, but Mother Nature is kind by giving us one last show of color before the snow and ice appear, forcing pond fish and other water-loving critters into hibernation.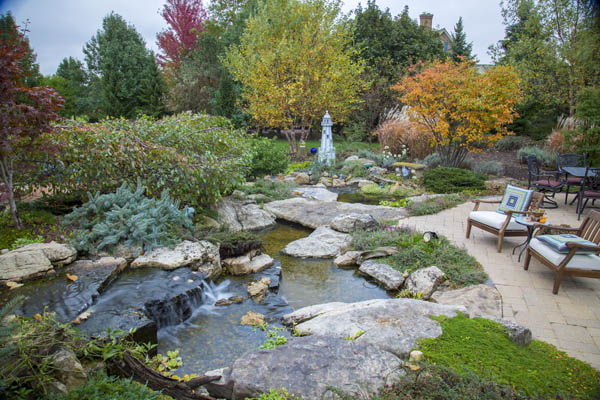 Golden leaves nestle next to water lettuce at the bottom of this Pondless Waterfall. Evergreens hug the waterfall stones helping to soften the rocky edges. The greenery will provide a nice contrast to the white snow in winter, too.

Be sure to pull up a chair and enjoy the views during daylight hours while you still can. Ponds and waterfalls seem even more peaceful as the pace winds down outside.
And of course, be sure to add pond and waterfall lighting to your water feature so you can enjoy your outdoor living space in the evening hours as the days grow shorter.
If you don't yet have a water feature but would like to enjoy one, consider adding a Fire Fountain to your deck or patio. This fountain embraces the earthy elements of fire and water and is perfect for the fall season.
If you're the lucky owner of a water feature in your yard, be sure to follow our simple tips for maintaining it through the fall season.
Read More: http://www.aquascapeinc.com/blogs/water-gardening/water-features-in-fall-season
Parking lot pavers were installed throughout the display area at our creative center. A paver walkway was installed through the existing parking lot. The walkway connects our large outdoor living display area to the front entrance of our Creative Center. We saw cut and removed the desired section of asphalt in the parking lot. Once the asphalt was all removed we began to prep the stone and setting sand base for the concrete pavers. Techo Bloc pavers were used to create this walkway through the parking lot.
While the paver walkway was being installed, work was also being done on a small seating wall. The seating wall is located by the front entrance to the Creative Center. Again we had to saw cut and remove the existing asphalt and began to prep the base. The seating wall was installed using Techo Bloc wall block. Finishing off the wall, we used natural stone caps. The stone caps were blow torched to give a natural looking rough edge.
Also involved in this project was the removal of part on an existing paver walkway. A new walkway was installed also using Techo Bloc pavers in it's place. The new walkway boarders one of our many pondless waterfalls on site, as well as the entrance to our creative center.
Check out the video below for a time-lapse view of the installation process.
This Pool Landscaping project consisted of installing a complete new landscape around a new installed pool. The pool landscaping included new landscape beds and plant material as well as buffer planting on the right side of the home. Landscaping was installed around the deck and patio are directly behind the house. The spa area included a stone setting base for the hot tub. A flagstone walk and stone mulch bed were installed leading up to the hut tub area. Landscaping was also installed along the foundation of house. A Natural Stone Boulder Wall was installed behind the pool towards the back of the property. The boulder wall is approximately 87 feet long and 3 feet high and constructed of limestone. Centered in the wall is a set of square cut flagstone steppers. The steppers lead to the natural stone steps leading to the backyard play area. Below the boulder wall is a landscaping bed runs the distance of the wall. This bed includes plantings with a river stone mulch. Above the boulder wall there is another bed full of plantings finished off with bark mulch. All of the areas disturbed by the pool installation and landscaping were fine graded and seeded. The final seeding was finished off with erosion control matting and straw mulch. The fence around the pool area and the landscaping has yet to be installed at the time of these photographs. This project is located in Lancaster, PA
There is a few things you must know when it comes to Fall Care for Aquatic Plants. Ponds come with some maintenance. Although most times this may be minimal. It is imperative to ensure the proper health of your ecosystem pond. Read more below on proper pond maintenance procedures for the fall. Follow these tips and you and your pond will both be happier come spring.
CARING FOR AQUATIC PLANTS IN THE FALL
Depending on where you live, the seasonal change from summer to fall is apparent by the beautiful, multi-colored leaves and the dip toward cooler temperatures. How will that chill you feel in the air affect the plants in your aquatic paradise?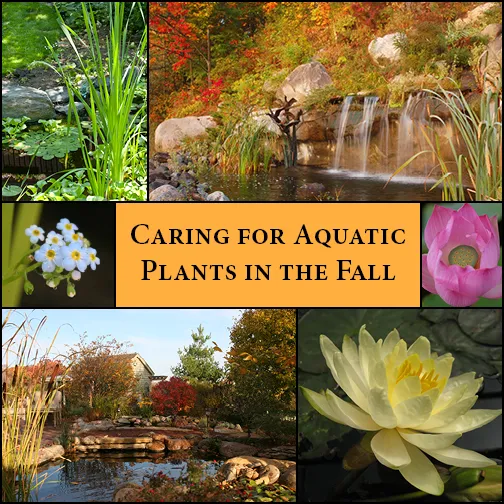 Hardy Marginals
 As with terrestrial, perennial plants, dropping temperatures signal your hardy aquatic plants to prepare for their winter dormancy. At this time, you should stop fertilizing them as you see leaves begin to yellow and brown. It's ok to leave these plants where they are in your pond to weather the cold of winter, just be sure to trim the dying foliage of your marginal plants down to 2" above the water level.
Tropical Marginals
In warm climates, tropical marginals will keep growing and will require fertilizer as usual. Water gardeners who live in Zones colder than 8 or 9 will need to treat these plants as they would any garden annual by replacing them each season. A fun alternative to this is to treat them as tropical houseplants and bring them in for the winter. Most tropical marginals will do well potted in heavy garden soil in a sealed clay pot with no drainage holes. When kept wet, the plants do well in a sunny window or sunroom.
Waterlilies
Waterlilies will also begin to show their dislike for the cold with yellowing leaves and fewer flowers. When this happens, the leaf and flower stems of hardy water lilies should be cut back to about 2 to 3" above the base of the plant.
In warm climates, tropical waterlilies are happy in the pond year round, as long as the water temperature stays above 60°F. In areas where freezing is likely, plants should be overwintered indoors. This can be a difficult task; therefore many gardeners choose to simply buy a new plant each season.


Lotus

As with the marginals in your pond, the foliage of your lotus plants will need to be trimmed back after they have died back and turned brown. It's important not to cut the leaves while they are still green because the freshly cut, hollow stems are susceptible to disease which can spread to the plant's tuber, possibly killing the plant. Lotus tubers will not withstand freezing, so any plants that are growing in the shallow areas of your pond should be moved to the bottom, away from freezing water.
Caring for your aquatic plants in the fall will mean less work and healthier plants come spring.
Read More:http://www.aquascapeinc.com/blogs/water-gardening/Caring-for-Aquatic-Plants-in-the-Fall
Looking for a Pond Contractor in Lancaster, PA? Well look no further. C.E. Pontz Sons is Central Pennsylvania's Premiere Pond Contractor and Outdoor Living Expert. We specialize in all types of water features including: Ecosystem Ponds, Pondless Waterfalls, Fountains, Swimming Ponds, Koi Ponds, Rainwater Harvesting Systems, Farm Ponds, Waterfalls for Pools, Wetland Filters, Natural Stream Renovations, fire fountains, and pretty much anything else you can name involving water. We design, build, maintain, and service all these types of water features. Pontz is a
Master Certified Aquascape Contractor
, Which is the highest level of certification provided by Aquascape Inc. Boasting some of the most experienced and creative water feature installers in the country, Pontz is sure to create the water feature of your dreams!!!
C.E. Pontz Sons is a Lancaster, PA based company specializing in designing and installing Water features and Outdoor Living Spaces in Central Pennsylvania. Since 1934 C.E. Pontz Sons has consistently provided top notch quality craftsmanship by some of the most well trained and experienced personnel in the industry. Pontz has been installing water features for almost 20 years, using quality-grade professional products manufactured by Aquascape. As a Master Certified Aquascape Contractor, C.E. Pontz Sons is able to provide the best in service and products for ecosystem ponds, Pondless® Waterfalls, and decorative fountains.
Our Service area includes but is not limited to: Lancaster, York, Harrisburg, Lebanon, Reading, Lititz, New Holland, Manheim, Elizabethtown, Ephrata, Denver, Mount Joy, Millersville, Willow Street, Strasburg, Intercourse, Gap, Quarryville, Adamstown, Leola, Marietta, Conestoga, Parkesburg, Morgantown, Wyomissing, Mt Gretna, Red lion, Middletown, Cornwall, Sinking spring, Palmyra,
You can visit our creative center located at 2355 New Holland Pike Lancaster, PA 17601. Amazing water feature and outdoor living displays are featured through the property. These features are designed to be interactive so feel free to investigate. You can also visit our water feature gallery filled with hundreds of pictures of completed projects.