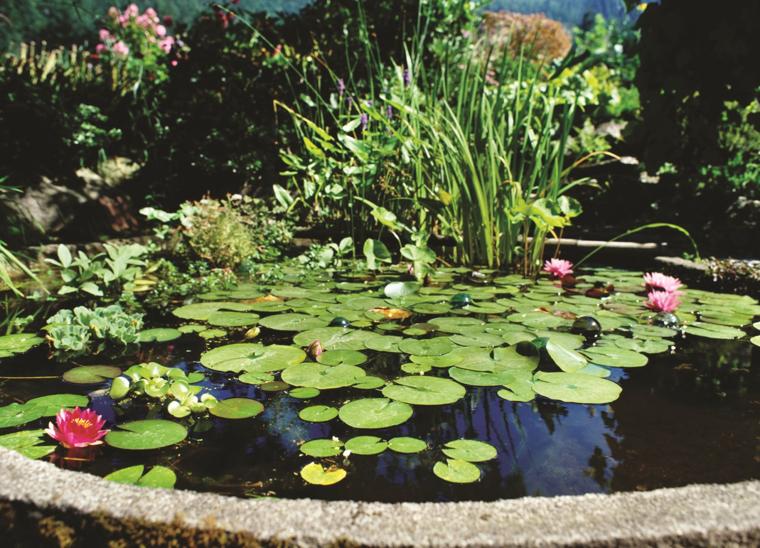 by: CATHY MOLITORIS | LNP CUSTOM CONTENT CONTRIBUTOR
Take your gardening up a notch by creating a water feature. It's a great way to add visual interest and make your yard a welcoming oasis, says Bobby Kenyon, "creative solutions guru" for C.E. Pontz Sons in Lancaster.
"Not only are water features more visually stunning, but what's more relaxing than the sound of running water or tranquillity of watching your pond fish swimming?" he says.
It's easy to get started, Kenyon says.
First, consider what type of water feature you'd like and the amount of interaction you plan to have with it, he says.
"There are many different types of features, including ponds, pondless waterfalls, fountains and rainwater harvesting systems," he says. "Some features require a bit of maintenance, while others are virtually maintenance free."
Look for spaces around your yard — and think outside the garden, too. Experts at Better Homes and Gardens say even small spaces on a deck can make perfect spots for container water gardens.
Once you've chosen a water feature, consider the options for plants, Kenyon says.
"There are tons of different plants for water gardens, just as there are for normal gardens," he says. "Just be sure to know the difference between the hardy plants that will return each year and the tropical ones that will not over-winter in our local climate."
The most popular choice, he says, is the water lily, which provides benefits to an ecosystem pond as well as added beauty.
Other options include lotus, which produces large showy flowers, or cattails.
And, don't forget to consider your budget and visit home and garden centers or online sites for inspiration.
"We typically recommend interested parties visit our creative center where we have various display features on site to get a better idea of what they would like to see in their yard," Kenyon says.
Remember, he adds, that the best part of having a water garden is the opportunity to really get creative in your yard.
"Every water feature is a unique piece of art that can't be duplicated," Kenyon says.
For some water garden inspiration visit C.E. Pontz's blog on water gardens, cepontzsons.com/choosing-perfect-water-feature-yard/, for ideas including ecosystem ponds, fountains and container water gardens.
Related
aquatic plants
,
c.e. pontz sons
,
fish
,
fountain
,
outdoor living
,
pond products
,
Pondless
,
ponds
,
water features
,
Waterfalls
,
watergardens
Author: Bobby Kenyon
Bobby Kenyon is the Creative Solutions Guru for C.E. Pontz Sons who has over a decade plus experience in the Landscape & Water Garden industry . He enjoys long walks on the beach and grocery shopping but has a strong dislike for regular cake and non brand name paper towels