Category:
Watergardens
This Project included bringing an 18 year old pond back to life. We began this project by dismantling the existing pond and removing all rocks, gravel, liner and catching the fish and frogs and stored them in a safe aeration tank during the construction of the new pond. We ran into a ton of cement blocks from the existing pond which were a nightmare to remove, but none the less we prevailed. After everything was removed we shaped up the the soil for the new pond installation. A fabric underlayment is first installed beneath the liner to protect it. A new 45 mil fish safe epdm liner was installed on top and we then began to rock in the pond using larger rocks so that kids can enter safely and access for pond plant maintenance. Shelves were installed at different elevations for aquatic plants. The skimmer installation makes for easier pond maintenance and to keep the pond pump free from pond debris. An overflow was plumbed from the skimmer to the downspout to allow the pond to take on rain water and dewater more cleanly. A biofalls filtration unit was installed on the top pond to filter the system and is also the upper waterfall area that aims towards the dining room window for viewing from inside the home and upper patio area. What an amazing transformation.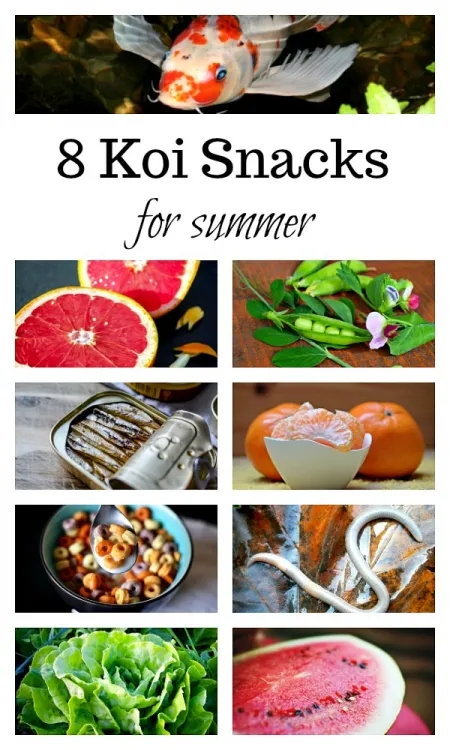 BY: AQUASCAPE
Veterinarians warn you not to feed table scraps to your pets. But did you know that koi are the exception to this rule? Sure, you can spend money on fancy fish treats at the store, but in reality those treats are typically basic fish food packaged in a different shape. Why not share your table spread with your finned friends instead? Just make sure you choose these 8 healthy koi snack options!
1. Grapefruit – Cut the grapefruit into quarters before feeding to your koi. The sections float and your fish will be attracted at once. Make sure the skins don't jam up your pump or skimmer. Also, don't feed grapefruit to your koi too frequently as the vitamin C acid can scorch their lips and turn them to a pale pink. No harm done, just reduce the amount of grapefruit you feed them. Once per week is plenty.
2. Peas – Make sure the fish know you're ready to feed them before you toss the peas into the pond. Peas sink fast and you don't want uneaten peas polluting your pond. Some experts say the skins are hard to digest but peeling peas can be a tedious task. To make it easy, peel partially frozen peas. Give them a little squeeze and the pea pops right out of the skin and into the pond! Koi seem to really love them – as long as they know they're there.
3. Sardines – You might be thinking it's cannibalistic for koi to eat sardines. Regardless, they're a healthy koi snack to serve in the summer. Thawed, chopped, frozen sardines are from salt water which means they're less likely to carry parasites applicable to koi. Feed sardines to your koi in moderation.
4. Orange segments – Big fish will take mandarin orange segments right out of your hand! It's a great party trick to impress your friends and family. Larger seedless oranges can be cut into quarters and fed to the fish, as well.
5. Cheerios – What child wouldn't love to share some of their cereal with pond fish? Cheerios are low residue and low nitrogen. We've found that koi tend to prefer Honey Nut Cheerios.
6. Worms – okay, so you probably don't serve worms at your dinner table, but nevertheless your koi will enjoy earthworms, Georgia reds, night crawlers, pinks, and others. Fresh, active earthworms are well accepted and safe, and when the first koi takes a bite, the rest will quickly catch on.
7. Romaine lettuce – Nutritionally invisible, but perhaps the least messy of greens for the fish to munch on. Don't bother with iceberg lettuce. Get the darkest romaine you can find and cut it into six-inch long thin strips.
8. Watermelon – Koi like watermelon, but not as much as grapefruit. It doesn't supply a lot of nutrition so keep this snack to a minimum.
A transformation that will leave you speechless. Who would've ever thunk so much could be done with so little space? Follow along as the Pontz boys go through building a small backyard pond. The project included removal of a small existing DIY pond and installing beautiful small 8′ x 6′ backyard Aquascape Ecosystem pond nestled in against the patio area . You need on of these in your life. FACTS.
Follow along as the Pontz boys start building a disappearing waterfall of EPIC proportions from a drab old feature. This project included removal of existing pondless waterfall, setting the rocks aside, removing the liner and plumbing and install all new mechanical components, liner, underlayment and rebuild the feature in a similar design that existed. The stream bed was excavated deeper to retain the water and prevent leaks. Various larger boulders were used to help retain the feature and prevent long-term movement. The bottom basin was constructed using aquablox instead of rock to allow for more water storage. The existing landscape lights were reinstalled and the feature was freshly mulched for a neat, finished appearance.
Check out this EPIC and i mean EPIC water feature display built at Watson Supply in Harrisburg, PA. This stunning water feature has it all. From cascading weathered limestone boulder waterfalls, to bubbling stacked slate urns and stacked slate spheres. If you're in the area be sure to stop by and check it out. You won't be disappointed. FACTS. The amazing fountainscape was created by the Pontz Crew in just two days. Yes you heard right two days.  A huge basin is located beneath the majority of the feature with a small pond area roughly 18″ deep.  Natural stone steppers lead you through the middle of the feature and a large tree bordering the pond area. Stay tuned for more from this project once the surrounding area has been completed.
*please note the surrounding landscaping and final touches we yet to be completed as of this video being shot*
BY: Aquascape
If you notice your fish being rambunctious in the pond during the spring season, you might assume the koi are fighting with one another. In reality, just the opposite is true. Your koi are spawning and it can be quite a sight to behold!
Koi are river fish with mechanisms developed for river life, which means that when it comes to producing offspring, they scatter their eggs everywhere rather than laying them in a neat and tidy nest like other pond fish. The mother and father koi never give their fry another thought and don't provide any after-care. In your pond, all the same stuff happens as in a river, but you get to see more of the intimate details!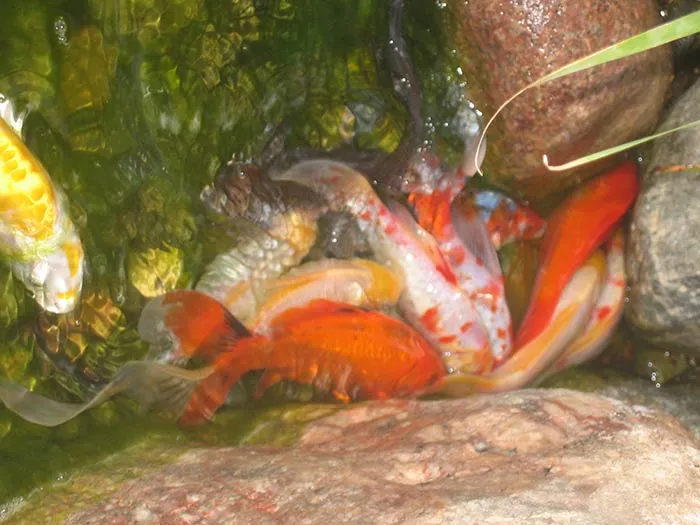 Two things begin the process of koi spawning in your pond. First, the water warms up in the spring, and second, the days grow longer. These two changes in the environment cause hormones to be released by the fish, causing the female to become full (gravid) of eggs and the male poised and ready for fertilization!

The Spawning Dance
During the spring season you might witness your koi chasing each other around the pond; usually first thing in the morning. It's a remarkable sight because large koi can really cause a raucous in the pond with their shenanigans. They will bull around the plants in a group, upsetting pots, rocks, roots – all for spawning. The female, usually a larger rounder fish, is "driven" by one or more males, and in their blind excitement, even females will join the pursuit of the female laying her eggs. They all get together going in one direction like, "Hey, it's a Conga line!"
While you might assume this is too traumatic for the female koi, this flurry of activity has to happen because she has no ability to push her eggs out with her abdominal muscles. Instead, the eggs are basically leaked out of the fish from the passive pressure that comes with pushing the female fish around the pond, usually against something like a rock or some plant material. The males bump their heads into her flanks to provide the extra oomph needed to expel most of her eggs.
If there are no shallows, obstacles, or plants for the female to push into, it is unlikely, to almost impossible, that a female koi will spawn on her own. In plain liner ponds with no decorative elements, rocks, plants, or shallow areas, the fish have no obstacles to spawn against and they may require artificially induced spawning hormones.

It Can Get Pretty Rough 
If you have a few koi in your pond, it's important to know about spawning behavior because in the spring, you might be shocked and appalled to see your fish "fighting" when, in fact, they are not really fighting but are rushing each other in a spawn.
It's also good to know that when the female koi gets rushed into the side of the pond, the shallows, or the rocks, she may endure some abrasion of her face and/or flanks. These will quickly heal under two conditions:
Be alert to the number of females in your pond. Ideally, there should be about two males to every female. If there is a higher ratio of males to females, she becomes basically the only gal in the pond, and is pretty much rushed all day. When this happens, she can get pretty beat up and severe injury can occur. Remove any female that gets run for more than four hours.
If the water quality is healthy and the important nitrogen numbers are all zero or nearly so, then she should be able to heal quickly and properly. If the water is high in ammonia, nitrite or nitrate, or if the pH is sagging low, the female will not heal well and infections are inevitable.
When you experience spawning in your pond and worry about the female, keep in mind that rocks under water are not abrasive! Give any rock three weeks under water and, unless it's a foamy piece of lava rock, it's going to be slick. The slime on rocks is called bio-film and it's wonderment to the fish as well as a beneficial cleansing component for your water.

Now What?
Once spawning occurs in your pond, the water can get quite foamy.  You might want to perform a partial water change at this point.
In two days, the eggs released during spawning will hatch but they are so small that you really can't see them. If you have gravel in your pond, it makes a great place for them to hide out, away from the danger of being eaten by bigger fish. They will hide there for another day or so using their yolk sac for energy then, when they are 24 to 36 hours old they will swim up into the foliage of the pond.  If you have no foliage, it's a short story of delicious fry sushi and no babies the following day.
The fry eat microscopic plants and animals. If you have a pond with a coating of bio-film and a thin greenish layer of algae on things, then the fry will have plenty to eat. They grow fast. Unfortunately, some of the fry will be spied by their elder siblings and parents and enjoyed as a meal. Others will survive by color or cunning, and live to join the shoal.

Are They Really That Cute?
Baby fish (and young koi in general) grow an inch per month in the first year, especially in biologically filtered ponds with an abundant plant, cope-pod, nematode, rotifer, crustacean, molluscan, and protozoan-rich gravel bed to sustain them. In clean, liner-bottom, drained ponds, few fry live.
Of the babies that live, a very small percentage of fish will have colors of any appreciable pattern or brilliance. Fish of collectible quality are very rare, and are hand-selected from a hundred thousand babies by talented breeders in Japan who recognize good fish nearly at birth and discard all the rest. In your pond, of the hundred thousand offspring, a thousand will hatch and a hundred will live to even be seen by you. Of that hundred, 10 will get big enough to catch with a net and be examined, and of that 10, maybe one will be tolerable as a "keeper."
The vast majority of spawned "homemade" babies in your pond will be grey or brown. This is partly because the genes for that color are extremely common, and that grey and brown are good survival colors for koi ponds. So these will be the dominant babies you're left with.

A Word of Warning
A word on mixed populations of goldfish and koi – koi don't like baby fish very much. Oh sure, in a pinch, they'll consume them – probably more accidentally than intentionally. Goldfish, on the other hand, love baby fish – especially the big, chunky koi eggs and babies. When you keep koi and goldfish together in the same pond, the surviving babies will all be goldfish babies, not koi babies.
So if you want koi babies this spring, consider relinquishing your goldfish to another party who wants them, and keep just your koi.
Tis the season to begin to awaken from our winter slumber. Follow the pontz boys along on one of our first clean-outs of the year. After you watch that AMAZING VIDEO check out the blog post below featuring all the tips and tricks you need to complete a successful spring pond clean-out.
Successfully Clean Your Pond for Spring
BY: Aquascape

Spring is simply the most exciting time of year. Birds return from their southern migration, furry critters waken from their winter slumber, trees are budding, and your pond fish are stretching and warming up their fins for summer swimming! The best thing you can do for the health of your pond this season is to clean your pond – whether it's a deep cleaning or just a bit of sprucing up.
Take a good look at your pond and ask yourself, "Does my water feature need a full clean-out this season, or does it just need to be tidied up a little?" To help you decide, it's worth knowing what to look for. First, if there is a layer of "crud" at the bottom of the pond and the water is dark in color, it would be a good idea to do a full clean-out.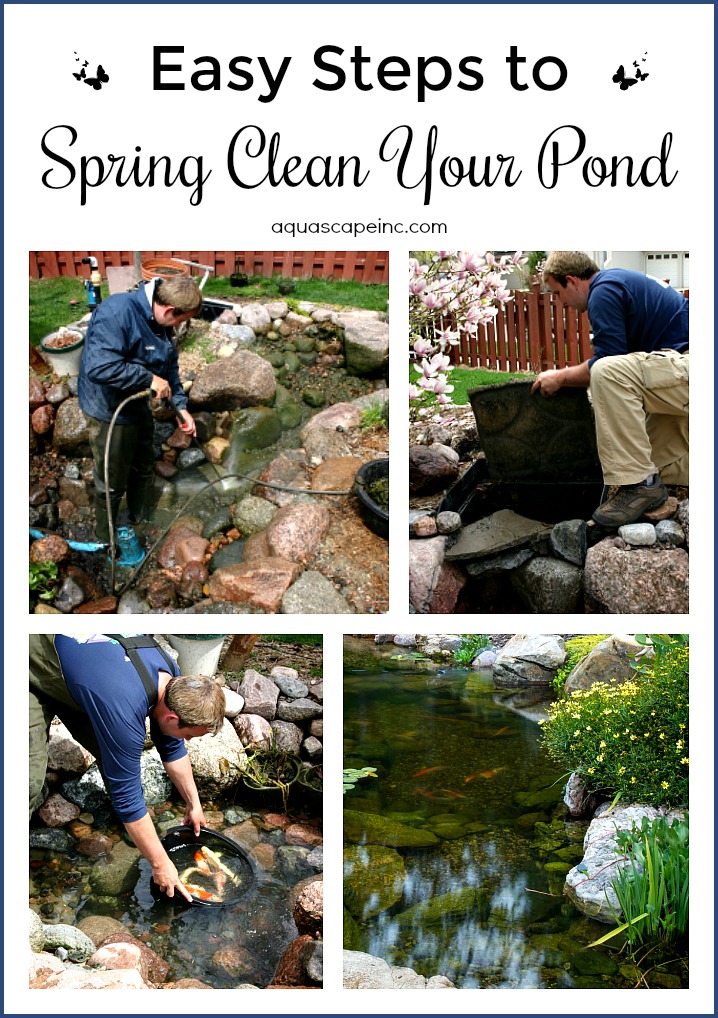 On the other hand, if there is just a small amount of debris that you can stir up and capture with a net and the water looks clear, a little tidying up is all that's in order. If you're going the full clean-out route, plan on spending a half to a full day to complete a pond clean-out. A Pondless® Waterfall will take considerably less time. You can, of course, hire a pond pro to clean your water feature for you.
The best time to perform a pond clean-out is the early spring, before your water garden completely awakens from its winter dormancy – ideally before the water temperature in the pond creeps above 55º F. If a clean-out is performed when the water is warmer, after bacteria colonies form, the balance of the ecosystem will be thrown off and your pond will go through another period of algae blooms before the bacteria colonies become re-established. Be patient, your pond will naturally balance itself provided you don't have a fish overload.

Here's what you need to clean your pond:
A clean-out pump with approximately 25 ft. of discharge hose
A high-pressure nozzle for your garden hose, or a power washer
Garden shears for trimming plants
A child's swimming pool or a similar sized container to hold fish and any other critters you find during the clean-out
A net or something similar to place over the fish container to keep them from jumping out
Two five-gallon buckets to collect leaves and debris
A fish net
Aquascape Pond Detoxifier to remove chorine and chloramines from tap water prior to putting fish back in the pond
Aquascape Cold Water Beneficial Bacteria
Drain the Pond Water
Place the clean-out pump in the deepest point of the pond in order to remove the water.
Drain the water into the surrounding landscape. Be sure to relocate the pipe two or three times to allow the water to seep into the ground and not flood the yard.
If you have fish, use some of this pond water to fill up the holding pool. The fish can be removed from the pond using a net once the water is low enough so you can easily catch them.
Don't keep the fish in the holding pool for more than several hours. Keep them in a shady spot with a net over the top of the pool to prevent them from jumping out.
A Gentle Cleaning
Rinse the inside of the pond. You can also use a pressure washer to help remove debris from the rocks and gravel.
Don't try to scrub all of the algae away. Some algae on the rocks will prove beneficial in developing your ecosystem. For an average size pond (11? x 16?) this should take around 15 minutes.
Use the gentle stream from a garden hose to rinse the rocks and gravel. Start at the top and work your way down to the bottom. Periodically turn the clean-out pump on to remove the dirty water. You can discontinue the periodic pumping once the water rinsing down to the bottom begins to look clear. Remove the pump and begin filling the pond.
Cleaning the Filters
Remove any debris from the bottom of the skimmer. This can be done by hand or by using the cleanout pump.
Remove the media nets and filter pads from the BioFalls® Filter. If you have the optional drain kit attached to your Signature Series™ BioFalls® Filter, you can open up the valve and rinse the media and filters. Once the filters have been removed rinse them free of accumulated debris.
The filter media and mats can be put back into place and the waterfalls pump can be reattached in the skimmer.
Acclimating Pond Fish
After filling the pond with your garden hose, add Aquascape Pond Detoxifier to the water so it is safe for your fish.
Dip a five-gallon bucket, or similar sized container, in the fish holding tank and fill it with water.
After you've caught a fish, place it in the bucket and set the buckets in the clean pond water (this prepares the fish for the temperature of the pond water).
After about 15 minutes, periodically begin splashing some pond water into the bucket.
By now, the temperature of the pond and the bucket water should be close to the same. You are ready to gently release the fish into their spring-cleaned home.
For additional spring maintenance tips, watch our video with helpful tips to get your pond off to a good start:
This disappearing waterfalls project included installation of a pondless water feature measuring roughly 15′ long. The meandering stream and waterfalls disappear into an underground holding basin. This system circulates water from the basin throughout the decorative feature and practically maintains itself.
Disappearing waterfalls are the perfect solution to house the tranquil sound of water with beautiful flowing falls without a pond. If you love the idea of waterfalls in your yard but have no interest in aquatic animals this type of feature is for you. Size and shape of these water features can be completely customized to almost any size, location, and even budget.
BY: Aquascape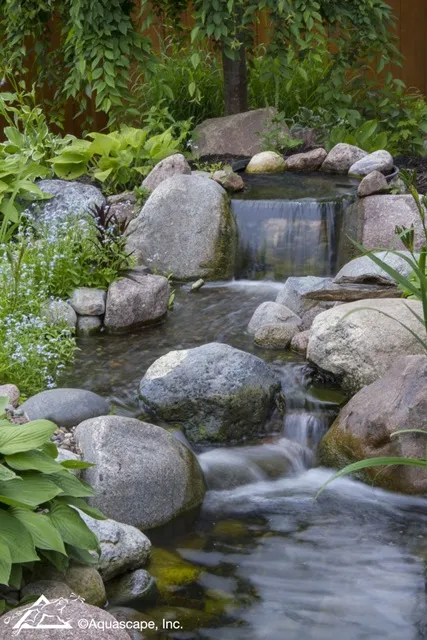 The beauty of a  pond is something everyone can appreciate. A flash of golden fish swimming in clean, clear water beneath the pads of waterlilies is a sight to behold and enjoy. Add the sound of a running waterfall and you have a dream come true in your backyard.
Keeping pond water clean and clear is the basis for a healthy pond that requires little to no maintenance. Fortunately, it's relatively easy to create a proper pond environment that benefits your fish and plants. Follow our not-so-secret steps to ensure a naturally-balanced, low maintenance pond throughout the year!
Circulation: Make sure your pond pump is the correct size for your pond and waterfall. A pump provides valuable aeration to the water. Several variables need to be considered when choosing a pump, such as the size of your pond and the height of your waterfall. Aquascape makes it easy to select the right size pump with our brand new Pond Pump Selection Guide.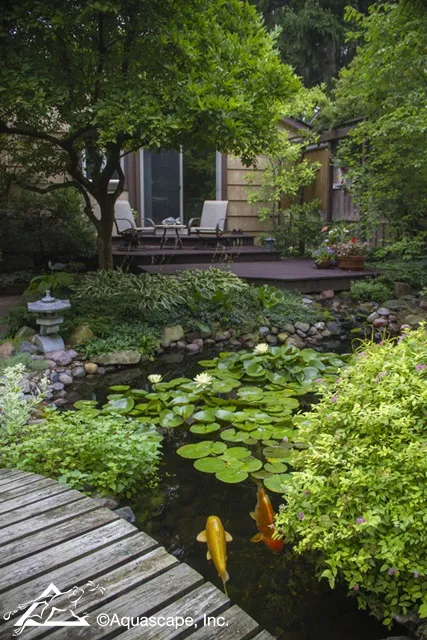 Filtration: More often than not, when answering questions about pond water quality, we find that people don't have proper filtration installed on their pond. If you had your pond built by a Certified Aquascape Contractor, you should have no worries. But for others, you want to make sure your pond has both a biological filter and a mechanical skimmer. The biological filteris the start of your waterfall and adds beneficial bacteria to your pond. The mechanical skimmer is similar to a pool skimmer, removing surface debris such as leaves and sticks. Ideally, you want to position the biological filter and skimmer at opposite ends of the pond. This ensures movement throughout the entire pond so you don't end up with stagnant areas.
For more information, download our e-book, How to Keep Pond Water Clean and Healthy.
Rocks and Gravel: Ponds can be made various ways. Some are created with concrete, others with a simple pond liner. We believe in an ecosystem approach to the pondering lifestyle and use rocks and gravels in our ponds, after installing underlayment and liner. Gravel provides much-needed surface area for beneficial bacteria to grow. Your fish will graze on these bacteria, as well. The gravel won't be a breeding ground for muck and debris if you ensure that your low maintenance pond has the proper pump and filtration. The ecosystem works together so it's important not to eliminate any of the elements.
Fish: While fish keeping is fun, your finned friends play an important part in the overall ecosystem of your pond. They eat algae and their waste becomes fertilizer for your pond plants. Too many fish, however, can pose a problem. A good rule of thumb is to limit your fish load to no more than 10" of fish per 100 gallons of water. So if you have a 20 fish at various lengths totaling 300" when combined, then you need a 3,000 gallon pond.
Plants: Plants play a critical role in the pond's ecosystem due to their filtering capabilities. Plants absorb nutrients from fish waste and help starve algae of its food. During hot summer months, make sure to have at least 40% of your pond's surface covered with plants. You can accomplish this with waterlilies and various marginals like mosaic plant, or floating plants like water lettuce and water hyacinth.
And now you know the secret to a truly low maintenance pond. Start with the basics and create a naturally balanced pond with a combination of proper circulation, filtration, fish, plants, and rock and gravel. You'll be amazed at how easy pond-keeping can be!
It may be Winter but the party doesn't stop for the Pontz boys. Check out our latest backyard koi pond build completed at the end of December. While it was mighty cold we pushed through and created another masterpiece. This winter pond build included installation of an Aquascape 8'x11′ ecosystem pond and removal of small existing pond . We also installed aquatic plants, and a fish cave. Due to the winter weather we are holding of on introducing the koi to their new home until the spring. The pond was finished off with a mulch bed around the perimeter and fine grading and seeding of damaged lawn from construction.