Category:
Uncategorized
When in Doubt call PONTZ to the Rescue! This project consisted of the removal of an existing pond that the homeowner attempted to build himself. Once realizing it was more than he could handle, he decided to call in the pros. Once on site we removed the existing work that had been done and started from scratch. We re-excavated the existing hole and started our normal process from there. We built the pond with the existing rock that was already on site and installed an epic Aquascape ecosystem pond. Check out the epic project in the project video below.


Our service areas include Lancaster, Reading, Lebanon, Harrisburg, York, West Chester, and surrounding areas of Pennsylvania (PA)
Contact us TODAY! https://cepontzsons.com/contact/pre-consultation-questionnaire/
C.E. Pontz Sons is here to help you Redefine Convenience with custom garage spaces designed and built specifically for YOUR needs. Clear the clutter and create the garage space you've always dreamed of.

*Special financing available as low as $140 a month with 0% interest. Ask us how. Call today 717-394-9923
MAXIMIZE YOUR WORKSPACE
An aluminum cabinet from Challenger is a thing of beauty. Sturdy, attractive, and built to your specifications, Challenger systems for the garage also make sense in trailers, toy haulers, and break rooms. Not your grandfather's workbench, you'll appreciate the durability and features like trigger latches and adjustable legs lending to a lifetime of tinkering.
When an "off the rack" cabinet just won't do, choose the custom-made benefits of Challenger with cabinets built specifically for your personal application, requirements, and lifestyle.
Total Custom Design
Create a garage space tailored to your needs. Challenger Designs has the capability to bring your vision into reality and beyond. Offering capabilities that provide customization to your vision and design.
All aluminum construction
Custom color matching
Quick turnaround so you can enjoy your work/play area
Attention to Detail
We take pride and joy in our hand tailored craftsmanship and take into account detailed requests that customers have.
Durable construction to last a lifetime
Customized to fit any space
Maximize unused space in your garage or utility room
We're proud to offer quality products designed and built in the USA. This means we can guarantee the highest level of craftsmanship and deliver your finished pieces in a short amount of time.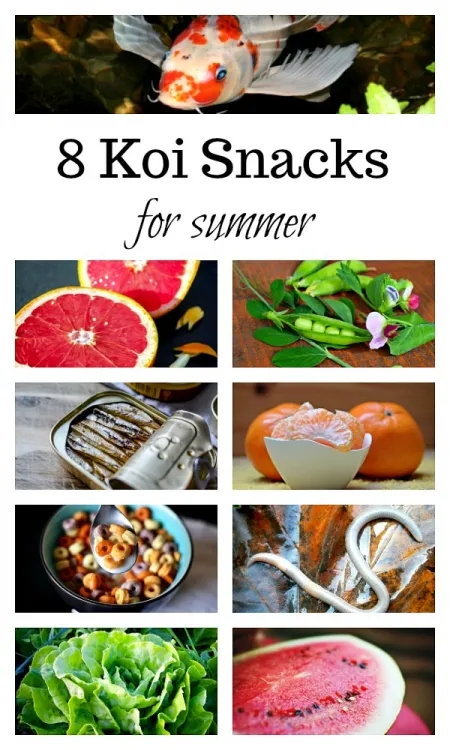 BY: AQUASCAPE
Veterinarians warn you not to feed table scraps to your pets. But did you know that koi are the exception to this rule? Sure, you can spend money on fancy fish treats at the store, but in reality those treats are typically basic fish food packaged in a different shape. Why not share your table spread with your finned friends instead? Just make sure you choose these 8 healthy koi snack options!
1. Grapefruit – Cut the grapefruit into quarters before feeding to your koi. The sections float and your fish will be attracted at once. Make sure the skins don't jam up your pump or skimmer. Also, don't feed grapefruit to your koi too frequently as the vitamin C acid can scorch their lips and turn them to a pale pink. No harm done, just reduce the amount of grapefruit you feed them. Once per week is plenty.
2. Peas – Make sure the fish know you're ready to feed them before you toss the peas into the pond. Peas sink fast and you don't want uneaten peas polluting your pond. Some experts say the skins are hard to digest but peeling peas can be a tedious task. To make it easy, peel partially frozen peas. Give them a little squeeze and the pea pops right out of the skin and into the pond! Koi seem to really love them – as long as they know they're there.
3. Sardines – You might be thinking it's cannibalistic for koi to eat sardines. Regardless, they're a healthy koi snack to serve in the summer. Thawed, chopped, frozen sardines are from salt water which means they're less likely to carry parasites applicable to koi. Feed sardines to your koi in moderation.
4. Orange segments – Big fish will take mandarin orange segments right out of your hand! It's a great party trick to impress your friends and family. Larger seedless oranges can be cut into quarters and fed to the fish, as well.
5. Cheerios – What child wouldn't love to share some of their cereal with pond fish? Cheerios are low residue and low nitrogen. We've found that koi tend to prefer Honey Nut Cheerios.
6. Worms – okay, so you probably don't serve worms at your dinner table, but nevertheless your koi will enjoy earthworms, Georgia reds, night crawlers, pinks, and others. Fresh, active earthworms are well accepted and safe, and when the first koi takes a bite, the rest will quickly catch on.
7. Romaine lettuce – Nutritionally invisible, but perhaps the least messy of greens for the fish to munch on. Don't bother with iceberg lettuce. Get the darkest romaine you can find and cut it into six-inch long thin strips.
8. Watermelon – Koi like watermelon, but not as much as grapefruit. It doesn't supply a lot of nutrition so keep this snack to a minimum.
Is your pond leaking? Unsure? No idea where to start? We've got you covered. Check out a complete guide to fixing pond leaks below!
BY: AQUASCAPE
Spring is in full swing and you notice your fish are swimming around the pond more while the water lilies are sprouting leaves. This time of year is such an exciting season for water gardeners! You might start to notice a slight drop in water level and wonder if you're losing some water due to evaporation or whether you have a leak in your pond after experiencing a harsh winter. Understanding the basic principles of identifying and fixing leaks will help you repair the problem quickly and efficiently.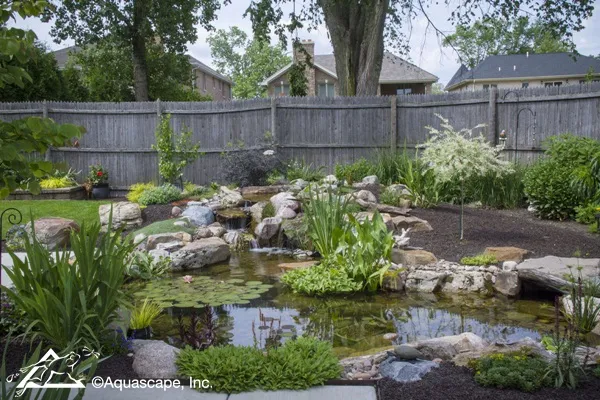 Evaporating Pond Water
First, let's have a look at what evaporation is and what it isn't. Evaporation is caused by water turning into a vapor and escaping from your pond. The amount of water loss will vary according to the region of the country and the time of year. Ponds that are located in areas of the country with moderate temperatures and high humidity can expect to see 1 to 1 ½ inches of water loss per week during the spring and summer. Most of this evaporation should be replaced naturally by rain. However, if you live in an area with high temperatures and low humidity, it's possible to see 3 inches or more of evaporation in a week.
The quantity and size of your waterfall(s) also affects the amount of water that is lost. Regardless of the climate, a 4'x 6'pond with a 20-foot stream and 5 feet of cascading waterfalls may lose as much as 2 inches or more every day! Why? Splashing and moving water has greater exposure to additional evaporation than does the still water in the pond. If that same pond was 16′ x 21′, you'd probably never even notice the additional evaporation because it's a larger pond.
Be advised, evaporation is not filling your pond up all the way one evening, and waking up the next morning to find the water six inches lower. That's a leak! If your pond is experiencing a loss of water at a more rapid rate than normal evaporation, you likely have a leak and we're here to help you find it.

Low Pond Edges 
Look for any low edges around your pond. Settling at the pond's edge is the most common cause of a leak, especially if you own a new pond. Typically, the low edges are found around the stream and waterfall where settling may have occurred after a few rainfalls. These areas are usually built up during the construction of the pond using the soil from the excavation, and are prone to some settling.
Your first line of defense is to carefully inspect the edges of not only your stream and waterfall, but also the perimeter of the pond. As the dirt around the stream or waterfall settles, it can create low spots that may cause water to escape over the edge of the liner. Keep your eyes peeled for wet mulch or gravel, or muddy areas around the perimeter of your pond – this is a dead giveaway that you have a leak. If you find a spot that's leaking, all you have to do is lift the liner up and push some soil under it in order to raise the edge. Bingo – leak fixed!
Another possibility is that water is splashing out of your stream. To fix a "splash leak," all you have to do is adjust a few of the rocks under and around your waterfall. This contains or redirects the splash and effectively eliminates your splash leak problem without a lot of effort on your part.

Obstructions in the Stream and Waterfalls 
Make a visual assessment of your stream or waterfall. Rocks and excessive plant or algae growth inside the stream, or even in your biological filter, can restrict the flow of water and divert it over the edge of the liner. Plants and algae should be maintained by trimming them back in order to let the water pass freely. If you don't like pulling string algae out by hand, apply EcoBlast Contact Granular Algaecide to the affected areas.

Still Leaking? 
If you've done all of the above and your pond is still showing signs of a leak, don't panic! You just need to do a little more investigating. Start by shutting your pump off for a day so you can determine the approximate location of the leak.
Make sure the pond is filled to the appropriate level.
Unplug the pump.
Let the pond sit for 24 hours.
If the water level drops, then you know the leak is in the pond.
When the Water Drops
To find out where the leak is occurring, allow the water level to continue to drop. The level where the water stops dropping is the level where the leak is located.
Concentrate your search around the perimeter of the pond at the level that the water has stopped dropping.
At this point, you may want to consider calling in a pond professional to locate and repair the leak, but you can do it yourself if you enjoy working in your pond:
Begin removing any rocks around the perimeter of the pond at the level where the water stopped and check for evidence of a puncture or hole in the liner.
When you find the hole, cover it with a self-adhesive EPDM Liner Patch.
Now you can replace the rocks, fill the pond back to the top, and enjoy!
Steady and Level 
If after turning off your pump for 24 hours you find the water level remains the same, then it is safe to assume that that the leak is not inside your pond. Your next step is to check the pipe, the plumbing fittings, and the pump connections for leaks.
Another possible culprit is the faceplate of your skimmer, if you have one. If the water level stopped dropping above the bottom of the faceplate, you should investigate the skimmer. It may not have sealed correctly.
If the Leak Is in the Skimmer …
Investigate the skimmer faceplate without disassembling it.
Simply move a few rocks around the front of the skimmer and slide your hand behind the liner, feeling for wet soil around the opening of the skimmer. If the soil is saturated, then the faceplate may have not been installed properly and might be the source of the leak.
Remove the faceplate, clean all of the old silicone off the liner, and refer back to the skimmer instruction manual on proper procedures for sealing the skimmer faceplate to the skimmer.
Finding and fixing your leak doesn't need to be a frustrating, complicated process. Start with the most obvious possibility (low edges) and work through our list to find your leak and repair your pond. You'll soon be back to watching your friendly fish swim about the growing water lilies.
BY: Aquascape
Decorative water features are a unique and beautiful way to give your landscape a fresh face. Fountains and Patio Ponds are quick and affordable landscape ideas to add a splash of water to your outdoor living spaces. We've gathered some of our favorite small space water features to inspire you to add the sound of water to your gardens.
Our newest fountain is the Stacked Slate Sphere that looks great in any setting! Enhance a walkway or patio with this water feature that's available in three sizes. Group them together for a statement piece in your landscape.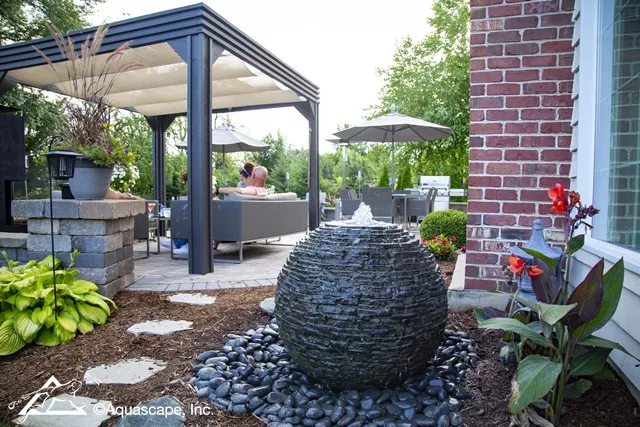 The Stacked Slate Sphere is available in three sizes and you can light it up at night, too. Birds and butterflies will visit the fountain for refreshment and you'll enjoy gazing upon its beauty both day and night. Fill an unused space in your yard with this stunning fountain.
Made with the same finish, a Stacked Slate Wall is impressive wherever you tuck it into your landscape. You can link these together to create a unique focal point. Of course, they look great as a single fountain too.
Decorative fountains are popping up in yards all over the country as more homeowners look for unique ways to improve the curb appeal of their house. An underground reservoir holds the pump and water that recirculates through the fountain. You'll find a variety of fountain styles to suit your taste and budget.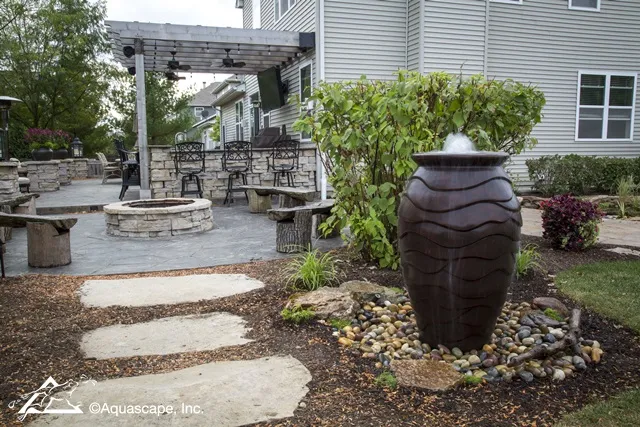 A trio of stone fountains welcomes visitors to this suburban home, adding to the home's value with its increased curb appeal. Rather than an expanse of grass or a large bush, the homeowners opted for beautiful fountain rocks which can be seen through their living room picture window.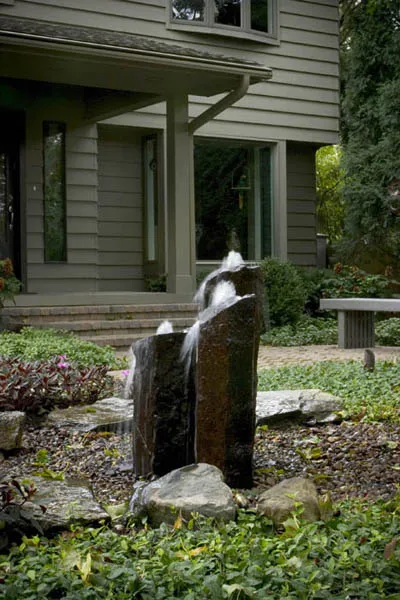 If you prefer something a little more elegant, you might enjoy a series of bowls spilling into each other. The best part of Aquascape Spillway Bowls is that you can link several together in a variety of patterns.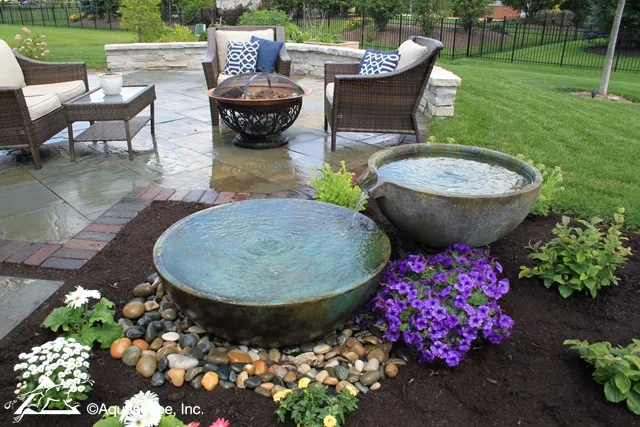 Birds and butterflies enjoy visiting outdoor fountains to enjoy a refreshing splash or nourishing drink. Every nature lover will enjoy the many benefits of decorative small space water features. And why stop with just one fountain? Place them in nooks and crannies throughout your garden spaces.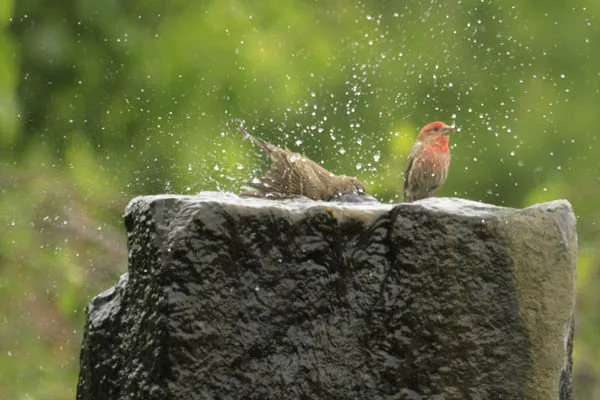 One of the fastest-growing trends in outdoor living features is the combination of fire and water. Our popular Fire Fountain creates a soft, pleasing sound of water as it flows over and around the pebbles. Fire adds a surprising element that looks great at night, too.
Miniature water gardens, also known as Patio Ponds, are becoming increasingly popular on patios and decks. These small-scaled ponds provide the opportunity to enjoy beautiful waterlilies in a variety of colors. You can even add small fish like Rosy Reds. Kids love watching the tiny fish swim and you can bring them indoors when winter rolls around.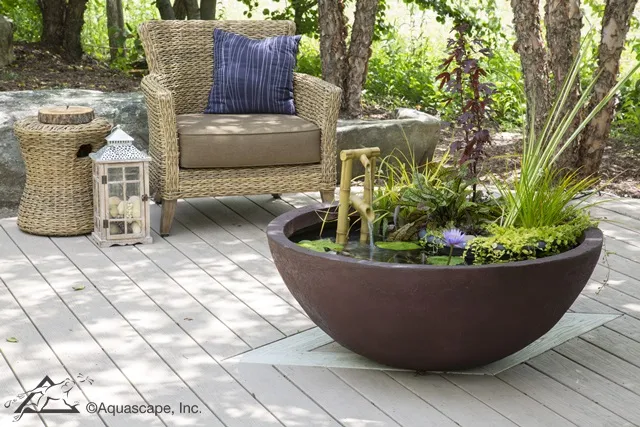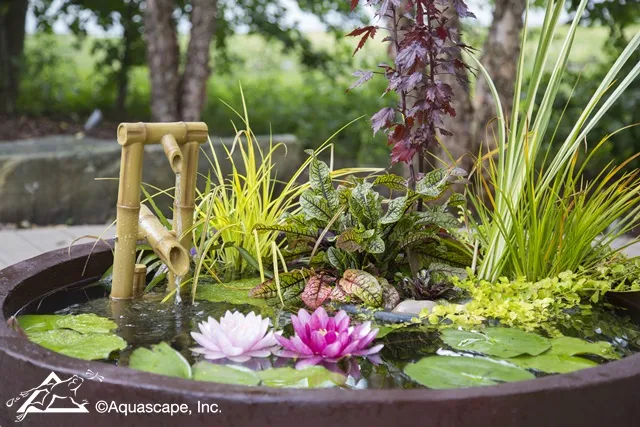 Whatever you choose, you're sure to enjoy the beauty and refreshment that a small water feature adds to your outdoor living spaces!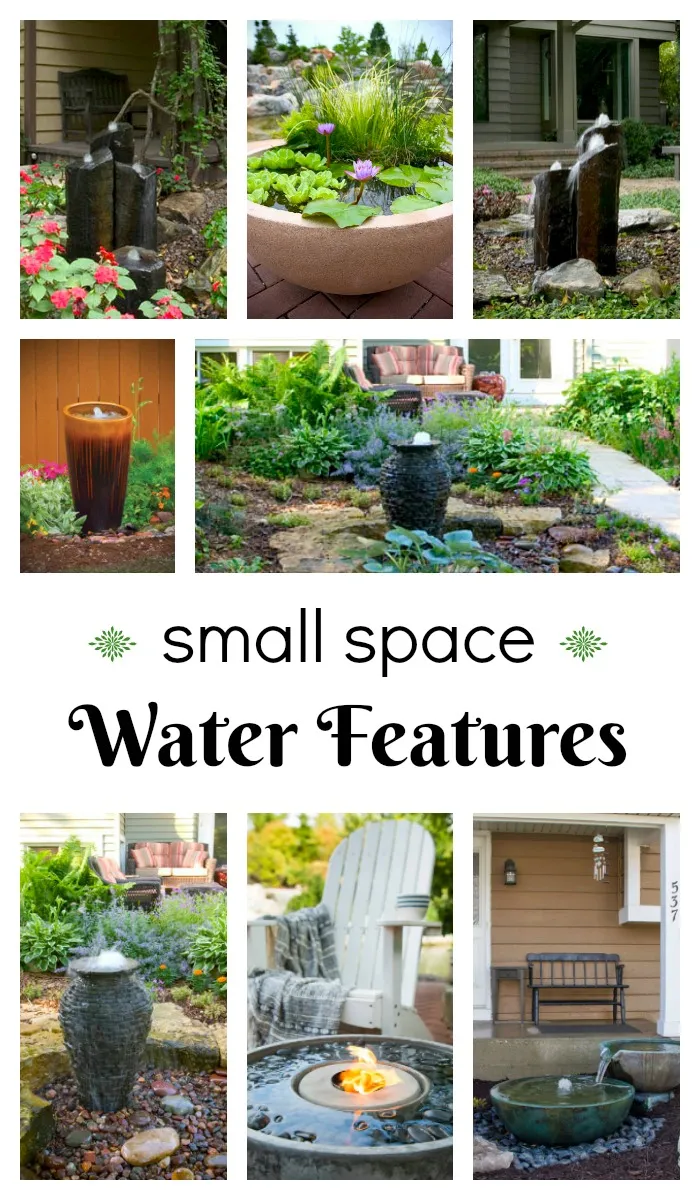 Check out this AMAZING city yard transformation! This City Yard of Water is an absolutely incredible example of what can be done in such a small space. The small backyard in Lancaster City was completely transformed from grass and weeds to this MASTERPIECE you see before you! Project included installation of an Aquascape Ecosystem pond complete with pond plants, fish, Stepping stones through the pond, waterfalls, fish cave for heron protection, algae control system and bacteria dosing system all designed to make pond maintenance user-friendly. Pond is approximately 21'x26′ with a 15′ stream/waterfall which starts in the far back corner of the yard which was an otherwise unusable space. There's nothing more relaxing and invited then the sound of running water and this backyard is going to be a relaxation paradise.

Check out the videos below for a brief overview of this project during the construction phase:
Testing out the "Beast" wet tile saw on a large Porcelain tile outdoor living area. While on this job we've tried just about every method and style of saw to cut through the porcelain tile pavers but none would do the trick. That is until our good friends at Watson Supply put us on to the "BEAST".

The BEAST 10″ Wet Tile Saw provides large format capability in a portable frame. This new saw has been manufactured with incredibly tight tolerances, stainless steel hardware, superior materials, and designed as a true professional level tile saw. The new BEAST10 has the largest cutting capacity in its class and is accurate to within 1/32″ over a 24″ cut.
The BEAST10 is capable of performing a diagonal cut on a 24″ x 24″ tile and can execute a 34″ Rip Cut (39″ Rip with plunge). The plunge cut feature makes it easy to execute V-Cap cuts, cut-outs for wall sockets and much more. Each saw comes with a removable table extension for large format tiles and an innovative snake pipe water nozzle which allows for precise water control and placement. An optional side plastic water tray will catch drip and divert water back to the water pan. The durable steel pipe saw frame is constructed to withstand the toughest conditions any contractor will experience. The BEAST10 has a 3-year warranty.
*Two optional choices for stands (sold separately)
Largest rip/diagonal cutting capacity in its class
Power 15 amp motor will cut hard materials such as porcelain, stone and thicker materials
Heavy-duty rail system engineered for exceptionally straight, accurate and smooth cuts
Motor tilts to ensure accurate 22.5º and 45º bevel cuts
Removable extension table for use with larger format tiles
Saw frame constructed of durable steel pipe
Dual-snake pipe water nozzle allows precise water control and placement
Front access to water tray greatly simplifies cleaning and draining process
Heavy-duty rip fence with positive stops at 0°, 22.5° AND 45°
Water supply line is externally mounted and easily accessible for cleaning or replacement
Blade guard easily opens and secures with finger knob
Blade splash guard and back splash tray keeps work area dry and returns water to water tray
Water pump designed for use in water tray or side bucket
Divider in water tray filters slurry and extends pump life
The first of couple of videos coming to you highlighting our trip to Logan Paul's house in Los Angeles, California. We traveled all the way to LA to meet Logan Paul at his house and with the help of our amazing Certified Aquascape Contractor brethren we build him the pond of his dreams!!!!!!!!!!!!! The videos in this post highlight traveling to LA as well as going to logan paul's house and the first day of construction for the amazing water feature.


Video 2 Featuring highlights from day 1 at logan paul's dream house pond build. IT WAS LIT…………
Check out this amazing Natural Stone Living Area backyard transformation. What was once a small deteriorating patio with patchy spots of lawn has been completely transformed into an amazing outdoor living and dining space.
Backyard transformation
Flagstone Patio with Fireplace
This flagstone patio with fireplace project consisted of the renovation of flagstone patio area. The new installation included flagstone patio, outdoor fireplace, outdoor kitchen, and cedar pergola as per our landscape design. The new portion of the flagstone patio is approximately 250 square feet and matches existing flagstone. Natural 'thin cut' stone veneer (dry stack look) was installed on the fireplace, outdoor kitchen, and pillars. 2? Premium Blue natural flagstone caps and counter tops were installed on fireplace, kitchen, and pillars. For the grill we used a 38″ Delta Heat grill with sear zone and rotisserie, and double access doors under grill. After the project was complete the homeowners did an amazing job in decorating the patio area. All of the outdoor furniture and decorations really brought the whole project together. It turned out amazing! This flagstone patio and fireplace was installed in Lancaster, PA
Having a tough time deciding on concrete pavers vs asphalt for your driveway or outdoor living project? This should be a no-brainer, but lucky for you our good friends at Techo-Bloc have you covered. Below you will find tons of information helping you to make the decision in the Pavers vs Asphalt battle.
Reasons Why Interlocking Concrete Knocks Asphalt out of the Park
Do I install interlocking concrete or asphalt in my driveway?
This is a very common dilemma that homeowners are faced with upon preparing for their outdoor renovations. Let it be known that there are many reasons why one should opt for interlocking concrete over its lesser alternative, plain black asphalt. Here are a few of the many advantages:
Design and patterns: Interlocking concrete is available in endless colors, textures and dimensions to create the patterns, mosaics that will increase your home's curb appeal and make your front entrance stand out. For more details on patterns, press here.


Color: Asphalt only gives you one choice. Black. In contrast, interlock offers a variety of colours and textures, which can accent, highlight and compliment your existing home's colours and features. Colour is key in tying your front entrance to your home and, ultimately, creating one continuous and harmonious look.
Ease of repair: With interlock pavements, if damage, cracks or spills occur, affected pavers can be easily removed and replaced with new units. Keeping spare units from the initial installation lets you easily switch the stained units when these circumstances occur. On the other hand, when asphalt cracks, suffers staining or other damages, it does not repair as well. Coating and patching are possible, but never look as good as new.


Flex of the system:
Interlock paver systems are naturally flexible. In other words, interlock pavement systems flex with the movement of the ground during freeze-thaw cycles, and then gradually settle back down. Asphalt is not a flexible system. In most cases when the ground moves, asphalt will move and crack with it. The seams between the pavers allow for flexibility in the system so cracks occur in the joints and not on the pavers.
Property value: The natural stone appeal of interlock is arguably far more pleasing to the eye. Therefore, it is a far better investment than asphalt in terms of increasing the resale value and curb appeal of your home.
Durability: Point blank, interlock pavers just last longer than asphalt. In fact, they also require less maintenance and repair over the years. After all, no one wants potholes in their driveway. Techo-Bloc offers a transferable life-time warranty on interlock pavers that cover matters like salt resistance, which is especially crucial for those who inhabit northern regions. In short, asphalt cannot stand time like interlocking concrete can.

Costs in maintenance and repair: Maintenance costs also need to be evaluated when considering whether to choose asphalt or concrete products. As previously mentioned, there is virtually little to no maintenance required with interlock pavers other than perhaps a pressure wash from time to time based on your tolerance to dirt. However, asphalt involves sealing costs every 2-3 years in order to help keep it looking new and in good shape. Regular maintenance is a must to keeping asphalt looking it's best. With interlock, sealing is an option, but certainly not a necessity as it will look beautiful for years to come regardless.